A smooth, custard filling with sweet, sugary notes of vanilla accompanied by a lemon-like tang, all baked atop a buttery, flaky pie crust -- this is what the Southern classic, Buttermilk Pie, is all about. And, if you're looking for a perfect, foolproof recipe to please your crowd this holiday season, you are in luck. This one hits all the marks. It's perfectly balanced, not too sweet, and always bakes up a beautiful golden brown.
In addition to a seriously simple, crowd-pleasing Buttermilk Pie Recipe, we'll also cover its interesting origins, essential tips for avoiding a runny custard and common mistakes that cause it, what to serve with your pie, plus, storage tips as well as information on freezing your pie!
If you're looking for more delicious pies to bake up this season, bookmark this delicious No-Bake Chocolate Pie and add it to your baking roster!
A PIE OF BORN OF DESPERATION | THE ORIGIN OF BUTTERMILK PIE
During the Great Depression when resources were scarce and fresh ingredients were not readily available, home cooks did their best with the ingredients they had access to. Fresh fruit was certainly not of abundance, and even if it was, it was very likely not going to be used to build a pie -- there was born the era of Desperation Pies.
Buttermilk Pie, Shoofly Pie, and Chess Pie are all considered Desperation Pies, and they were (and still are) very inexpensive and simple pies to make. While fresh fruit was scarce, access to eggs, sugar, and buttermilk was more common.
ARE CHESS AND BUTTERMILK PIE THE SAME THING?
While Chess and Buttermilk Pie recipes are similar, they are not the same thing. Chess pie excludes the use of buttermilk, and instead, calls for a combination of milk and vinegar. Chess Pie also calls for cornmeal.
Desperation Pies were pies born of humble means, but now they're making a comeback in a big way. Because these pies are so simple to make, yet yield a pret-ty tasty result, you should expect to see them around more often. There is currently a culinary movement in restaurants across the country in their favor.
ROYERS' FAMOUS BUTTERMILK PIE RECIPE
Old fashioned pies have been making a comeback on the culinary scene, but some restaurants have been serving them up for decades without fail. Royers Cafe is one of them. A quint little restaurant in Roundtop, Texas famous for their fried chicken and their pies. If that's not a Southern combination to love, I don't know what is.
Royers Cafe was founded by a pie connoisseur, and he made sure the Southern classic, Buttermilk Pie, was on the menu. I've personally been to Royers, and have tried this very pie, so imagine my delight when I came across the recipe for their Buttermilk Pie Delight. It was in a newly purchased cookbook, United Tastes of Texas, and it was an amped-up version of their recipe with pecans, coconut, and chocolate chips, but at the heart of the recipe, lied Royer's famous traditional recipe.
Most of the old-fashioned recipes (including Royers) are very sweet, therefore, a few slight modifications were made to suit today's modernized palette. A little less sugar, a touch more salt, and a somewhat simplified procedure were the only changes made to this classic Buttermilk Pie Recipe, and I'm sure you'll find it well-received at any Southern holiday table by any generation.
For another classic favorite, try our Chocolate Mousse Pie!
BUTTERMILK PIE 101
Buttermilk Pie is a vanilla-flavored, custard pie, smooth and creamy in texture, with just a hint of tang. It's incredibly simple to make thanks to its few ingredients and comes together rather quickly, making this the perfect dessert for the novice pie maker. In fact, the recipe is so simple, it can be broken down into just 3 easy steps:
BUTTERMILK PIE RECIPE OVERVIEW
Roll out pie dough.
Stir filling ingredients together and pour into pie shell.
Bake and cool.
THE CRUST
The base is a good, old-fashioned, buttery pie crust. You can make your own pie crust in less than 10 minutes with my Perfect Flaky Pie Crust Recipe, or use a store-bought pie crust. There is no blind-baking required. The pie crust is simply rolled out, and transferred to the pie dish, awaiting its filling.
THE FILLING
The filling ingredients for this Buttermilk Pie recipe are as follows: Buttermilk, sugar, butter, eggs, flour, vanilla extract, salt, and nutmeg. The buttermilk, sugar, and eggs make up the custard. The flour is used as a thickening agent, enabling your pie to stand tall after being cut into. Though only used in small quantities, the vanilla extract and salt are essential to adding flavor to your pie. The nutmeg, however, is optional, although highly recommended as it will add a lovely boost of flavor to the pie.
All of the ingredients come together in just one bowl, with the exception of beating a few eggs prior to adding to the mix.
BAKING AND SETTING
The filling goes into the pie and it is baked in the oven. Almost half-way through the baking process, you'll notice this recipe calls for a shield made of aluminum foil. This will help to prevent the top of the pie from becoming an unattractive, dark brown, and keeping it a beautiful, golden yellow.
Because this is a custard-based pie, it is not ready the moment it comes out of the oven. The pie will need to set up and cool for at least 2 hours before cutting into, so plan accordingly.
THE TASTE OF BUTTERMILK PIE
Buttermilk Pie is a simple vanilla-flavored pie, sweet and creamy, and strangely, it tastes as though it was baked with a hint of lemon. However, as we already know, it was most definitely not. Which leads us to the makeup of buttermilk itself.
WHAT IS BUTTERMILK?
Buttermilk is a cultured milk product in which a lactic acid bacteria is added to the milk, essentially fermenting the milk and giving it a sour taste. This acid is precisely what lends that lemony flavor to the pie. It is a great ingredient for adding flavor to baked goods and keeping them tender. In the case of a Buttermilk Pie recipe, it's is solely used for flavor.
The buttermilk in this pie is not overpowering by any means and is very well-balanced by the sugar in the recipe. You'll find the pie a little tangy, but the predominate flavors you'll pick up on are "sweet" and "vanilla." Its simple flavor profile makes this a particularly wonderful pie for even the pickiest eaters to enjoy.
THE TEXTURE OF BUTTERMILK PIE
This is a custard-based pie, and therefore, you should expect the texture to be smooth and creamy. A bit of flour added to the mixture helps the pie to stand tall and stay in place when cut into.
TROUBLESHOOTING | WHY IS MY BUTTERMILK PIE RUNNY?
There are three things that could cause Buttermilk Pie to be runny:
Not allowing the pie to cool and set properly. Remember, this is a custard pie, which means it is not only going to continue cooking once it comes out of the oven, but it also needs time to cool and set. Custard pies need at least 2 hours to properly set before being cut into.
If your Buttermilk Pie is runny, it might have been underbaked. You should pull your pie from the oven when the center still has a little bit of jiggle left to it, but the whole pie should not go shaking back and forth in a wave-like motion when pulled from the oven.
Not enough flour (or thickener) in the recipe could also be the culprit, but if you are using this recipe, take comfort in knowing your flour ratio is right on point, and your pie will hold its shape after being sliced into.
HOW TO SERVE BUTTERMILK PIE
Buttermilk Pie can be served at room temperature (after it has had adequate time to set up) or cold straight out of the refrigerator. Serve it with a dollop of whipped cream and a fresh grate of nutmeg for an extra special touch.
STORAGE TIPS FOR BUTTERMILK PIE
If your pie has cooled and set up very close to serving time, it is okay to leave it out at room temperature for a bit longer, however, Buttermilk Pie should be refrigerated soon after and will stay good for 2-3 days in the refrigerator.
Buttermilk freezes well, as will your pie! To freeze a Buttermilk Pie whole, gently wrap it all around with a couple of layers of plastic wrap, then with a layer of aluminum foil. To freeze leftover slices, place them in a snug, freezer-safe, airtight storage container, separated by layers of wax paper and seal. The pie will stay good and fresh-tasting for up to 2 months in the freezer. To thaw, place in the refrigerator overnight or microwave at 30-second intervals until the temperature has reached your liking.
5 MORE PIE RECIPES YOU'LL LOVE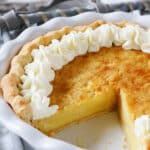 Classic Southern Buttermilk Pie Recipe
The best recipe for classic Southern Buttermilk Pie, with a sweet, and slightly tangy, custard filling baked atop a buttery, flaky pie crust.
Ingredients
1

disc homemade pie crust or store-bought pie crust

1

cup + 3 tablespoons

granulated sugar

¼

cup

all-purpose flour, plus extra for rolling out pie dough

¾

teaspoon

fine sea salt

½

teaspoon

freshly grated nutmeg

1

cup

buttermilk

3

large

eggs, slightly beaten

2

teaspoons

pure vanilla extract

½

cup

unsalted butter, melted and slightly cooled
Instructions
Preheat the oven to 350°. Have ready a 9" pie dish, as well as aluminum foil on standby and a pie shield, if you have one.

If using a homemade pie crust, flour both sides of a pastry disk and set atop a floured work surface. Begin rolling out the disk until it is about an ⅛" thick and 12" in diameter.

Place uncooked pie crust in the pie dish, and fold over or crimp the edges.

In a medium-sized mixing bowl, whisk together the sugar, flour, salt, and nutmeg. Add the buttermilk, eggs, and vanilla, and whisk to combine. Lastly, whisk in the melted butter, and pour filling over the pie shell.

Bake for 30 minutes, uncovered. While baking, double-fold a large sheet of aluminum foil so that it is about 12"x12".

After the 30-minute mark, carefully add the pie shield (if you have one) and top the entire pie with the double-folded sheet of aluminum foil, and bake for 15-20 minutes longer. The pie will be slightly jiggly in the center.

Allow to cool and set at room temperature for at least 2 hours. Serve and enjoy.
Nutrition Facts
Classic Southern Buttermilk Pie Recipe
Amount Per Serving
Calories 397
Calories from Fat 171
% Daily Value*
Fat 19g29%
Cholesterol 103mg34%
Sodium 365mg16%
Potassium 86mg2%
Carbohydrates 50g17%
Protein 5g10%
Vitamin A 505IU10%
Calcium 52mg5%
Iron 1.1mg6%
* Percent Daily Values are based on a 2000 calorie diet.
SOURCES: Why Desperation Pies are Making a Comeback,What Are Desperation Pies and Why Are These Vintage Treats so Hot, What is Buttermilk? Where It Came From and How to Use It.
Recipe adapted from the book United Tastes of Texas by Jessica Dupuy, Royers Buttermilk Pie Delight.